Sea animals in Azerbaijani
In this lesson we will learn new words on the topic of: Marine animals in Azerbaijani.
Names of sea animals in the Azerbaijani language
If we started talking about animals, then we need to learn sea animals in Azerbaijani as well. If you remember in our previous lessons, we learned new words in Azerbaijani language related to the topic of Domestic animals in Azerbaijani. We also have a lessons which teaches words on the topic Wild animals in the Azerbaijani language and Birds in the Azerbaijani language. After learning these lessons, we will be able to speak about animals in Azerbaijani with confidence.
Azerbaijan is located on the shores of the Caspian Sea. This advantage makes Azerbaijan a fishing industry country. The fauna and flora of the Caspian Sea have a unique richness. It is distinguished from other seas and lakes. The fauna of the Caspian Sea differs significantly from the typical marine fauna. There are 79 species of vertebrates in the Caspian Sea. In addition, there are 101 species of fish in the Caspian Sea. In the Caspian Sea, there are sturgeon, long-nosed fish, rock fish, white salmon, salmon, five species of Caspian herring, sea bream, ziyad, gulma, khasham and other fish species.
But the most important marine treasure of Azerbaijan is black caviar. Azerbaijan is known all over the world for its caviar. Ninety percent of the world's caviar production comes from the Caspian Sea basin. As we said earlier, the large number of various fish in the Caspian Sea makes it relevant to learn the names of sea animals in the Azerbaijani language. Therefore, we must take this lesson seriously, and learn the words on the topic of marine animals in Azerbaijani.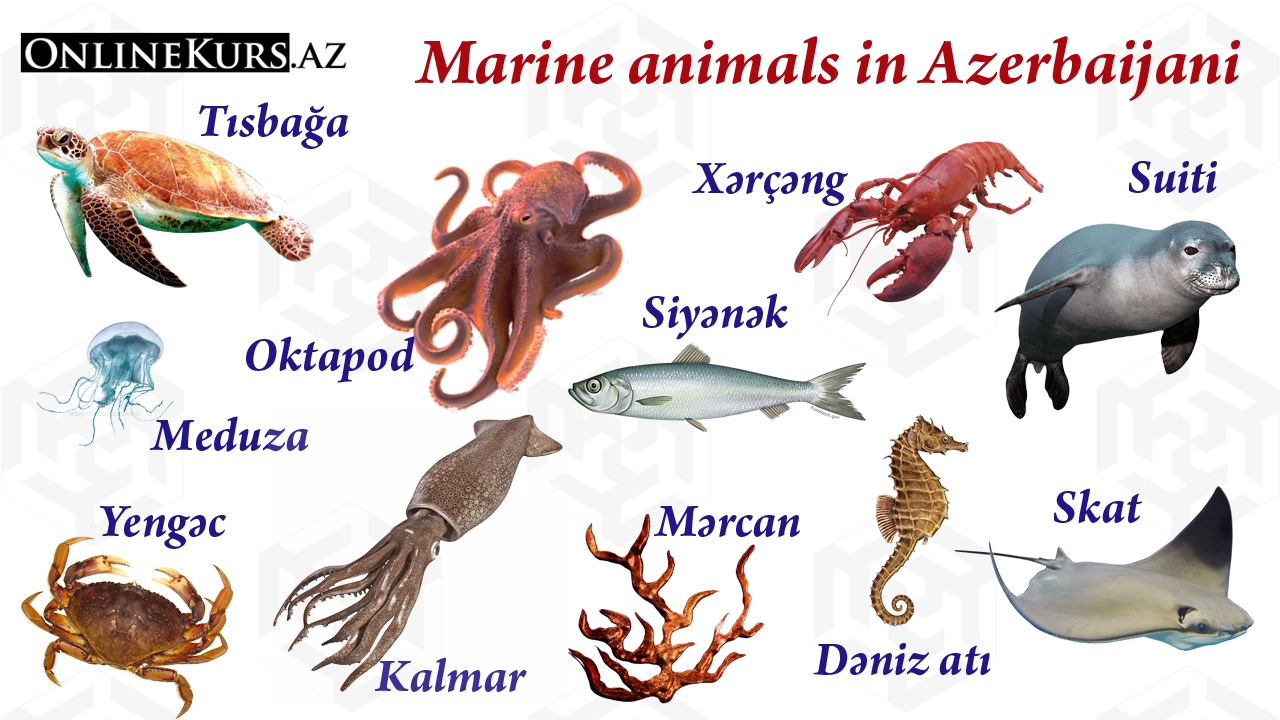 Proverbs in the Azerbaijani language about sea animals
"Ağzı qapalı balıq heç vaxt qırmağa keçməz." - A fish with a closed mouth will never hit the hook. ( The meaning of this proverb is that a person must keep his mouth shut so that he does not have problems. )
"Balıq başdan iylənər." - Fish stinks from the head. ( Failure in a business or some kind of fault starts with high-ranking people or officials. )
"Balıq sudaykən sövda olmaz." - Fish will not be traded when it is in the water. ( The meaning of the proverb that the purchase or sale of an object that is not yet available can not be discussed. )
"Balıq tutan suyu bulanıq istər." - The fisherman wants the water to be cloudy.
"Buz üstündəki balıq kimi döyünmək." - Beating like fish on ice. ( Painfully looking for a way out of a difficult situation. Expression from the environment of fishermen. In winter fishing, the fish is dragged onto the ice. She fights on ice, but all her efforts are in vain. )
Writing and pronunciation of marine animals in Azerbaijani.
| | |
| --- | --- |
| | Fish |
| | Shark |
| | Whale |
| | Turtle |
| | Crab |
| | Dolphin |
| | Jellyfish |
| | Octopus |
| | Squid |
| | Oyster |
| | Caviar |
| | Coral |
| | Herring |
| | Crayfish |
| | Salmon |
| | Sea horse |
| | Walrus |
| | Seal |
| | Sea urchin |
| | Stringray |
| | Shrimp |
| | Sturgeon |
| | Trout |
We believe that the education should be free and available to everybody. This is why some time ago, we made a decision to continue developing as a completely free network. But we need the support of our readers to continue creating new content, keep the development going and pay related expenses. If you like what we do and find it helpful, consider supporting us by making a donation.