Fruits in Turkish
In this lesson we will learn new words on the topic: Names of fruits in Turkish.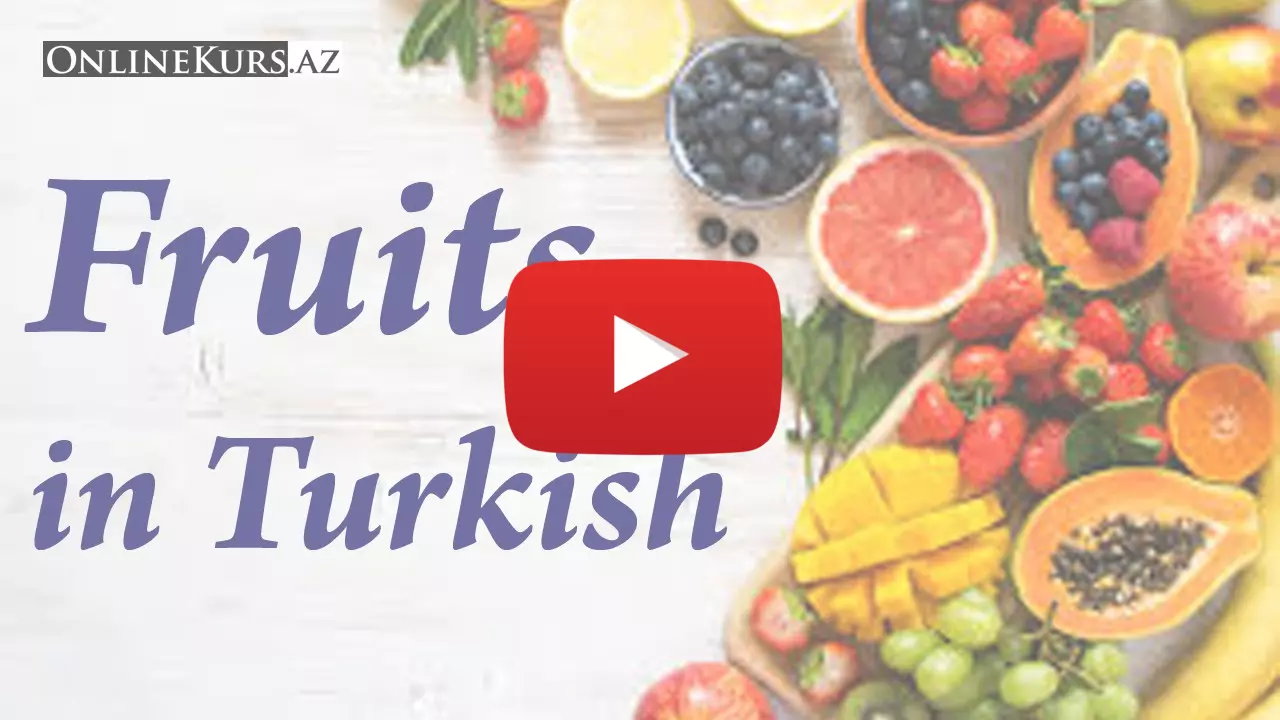 What are the names of fruits in Turkish?
When learning a language, we start with the basic levels by dividing it into stages, and as we progress, we move up to the higher levels and gradually develop. There are countless methods we use to learn a language, and these methods can vary from student to student. Just as not every student has the same ability to comprehend, the methods of learning a language may not be the same. Therefore, when learning a language, each person chooses ways that are easier for him to understand.
There are certain topics that are taken for the beginner level in learning Turkish, as in many teaching methods. Taking into account the level of complexity of words, we will determine at what stage we will learn them. We will try to learn them all step by step. We will start learning words in Turkish with words related to A1 level and talk about words that we can use in our daily life and in our professional life. We'll cover a wide variety of topics, from simple topics that anyone who learns Turkish should learn early on, to complex words that are important to learning Turkish at an academic level. Because the main topics in learning Turkish are words that we can often use in everyday life, that is, words that are very actively used. Therefore, let's start learning words with the topic Fruits in Turkish.
We all love delicious fruits. What are the names of fruits in Turkish? Let's start learning!
Dried fruits in Turkish
Turkey is one of the largest producers of dried fruits in the world and has been exporting them to more than 150 countries for over a century. Its unique geographic location offers plenty of sunshine, a dry Mediterranean climate, fertile soil and sufficient rainfall to grow a variety of plants. Dried fruits such as raisins, apricots, figs and tomatoes are popular Turkish dried fruits, while hazelnuts and pistachios also have a long tradition of being harvested and sold.
Since the country ranks first in the world in the production and export of dried fruits, it is impossible to talk about Turkish cuisine without mentioning its love for all dried fruits and nuts. Over the centuries, Turkish people have come to love these foods and these healthy snacks have become an integral part of Turkish cuisine.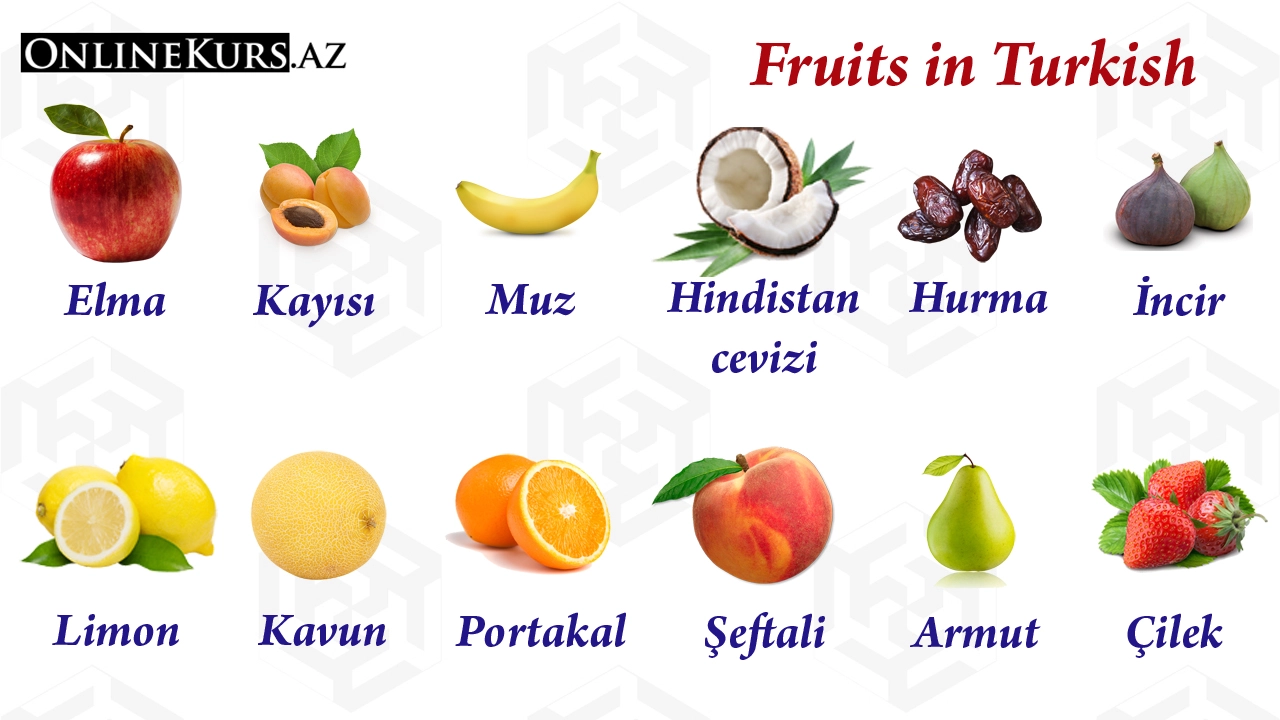 Proverbs on the subject of fruits in Turkish.
"Ağaç yeşert meyve getirsin, oğlan büyüt ekmek getirsin" - Let the tree grow and bring fruit, let the boy grow and bring bread (The meaning of the proverb that - A son is like a tree that bears fruit, he will lighten the burden of the household when the day comes.)
"Al elmaya taş atan çok olur" - There are many who throw stones at the red apple. ( The meaning of the proverb that - People will speak ill off to the successful ones.)
"Armudun iyisini ayılar yer" - Bears eat the best of the pear. (It is a word used for those who get their hands on something beautiful that does not suit them.)
"Bir koltuğa iki karpuz sığmaz" - Two watermelons can't fit in one armpit (The meaning of the proverb that - At the same time, dealing with more than one job is inconvenient for success.)
"Baba erik yer, oğlunun dişi kamaşır" - Father eats apricot, his son's tooth dazzles (The meaning of the proverb that - The child suffers from the bad work of the father.)
"Kavun kökeninde büyür" - Melon grows at the root (The meaning of the proverb that - A child grows up and develops in the home of his parents, in the environment where everyone was born and raised.)
Spelling and pronunciation of fruit names in Turkish.
| | |
| --- | --- |
| | Fruits |
| | Pear |
| | Banana |
| | Apple |
| | Orange |
| | Apricot |
| | Cherry |
| | Peach |
| | Plum |
| | Watermelon |
| | Coconut |
| | Fig |
| | Persimmon |
| | Kiwi |
| | Melon |
| | Pineapple |
| | Feijoa |
| | Green plum |
| | Pomegranate |
| | Quince |
| | Olive |
| | Medlar |
| | Dry fruits |
| | Almond |
| | Dates |
| | Raisin |
| | Hazelnut |
| | Walnut |
| | Chestnut |
| | Peanut |
| | Pistachio |
| | Cashew nut |
| | Raspberry |
| | Strawberry |
| | Blueberry |
| | Blackberry |
| | Elderberry |
| | Cranberry |
| | Mulberry |
| | Barberry |
| | Hawthorn |
| | Rosehip |
| | Cornel |
| | Grapes |
We believe that the education should be free and available to everybody. This is why some time ago, we made a decision to continue developing as a completely free network. But we need the support of our readers to continue creating new content, keep the development going and pay related expenses. If you like what we do and find it helpful, consider supporting us by making a donation.